Before you head to the beach, make sure you have a stylish beach bag for all of your summer essentials! Here's a selection of 12 stylish beach bags you couldn't go wrong with!
There are a few things you must have before heading to the beach – a perfectly fitted bikini, a super sized straw hat, a pair of comfy flip-flops and a big, stylish beach bag!
When choosing the perfect beach bag, it's important to pay attention to its size and style – your beach bag should be big enough to fit all your beach essentials and it should match your beach outfits. A stylish beach bag is definitely a summertime must-have, and an item you're going to wear every day, while you are on vacation, so choose it wisely!
There's a wide variety of styles to choose from – from waterproof totes and classic straw bags, to designer canvas totes, and this doesn't necessarily make your decision easier. But here's something that may – a list of 12 roomy & stylish beach bags that will help you to stand out in the sand!
Top 12 Super Stylish Beach Bags
Classic Straw Beach Totes
Straw bags are a classic! Choosing a straw bag is always a good idea, since this is the bag you could wear with any beach or pool outfit. If you find straw bags uninteresting, don't forget you can always accessorize them with a nice bag charm!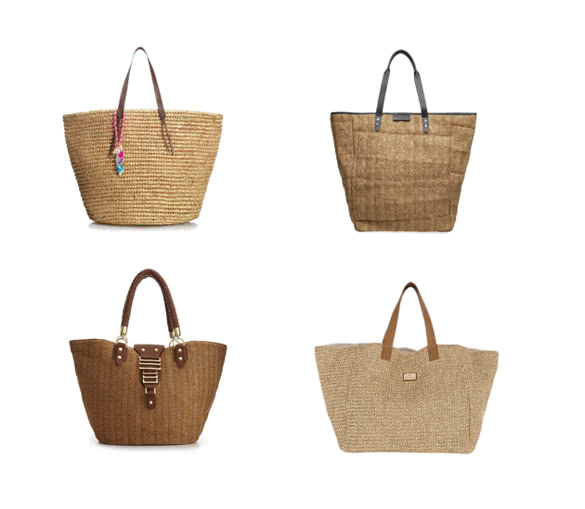 Large Straw Beach Tote (juicycouture.com)
Rag & Bone Beach Bag (lagarconne.com)
Olivia + Joy Beach Babe Tote
Gold Metallic Weave Tote Beach Bag (riverisland.com)
Printed Beach Bags
These colorful bags are super cute and would look amazing paired with a matching beach dress or a tank top, and denim shorts. Striped bags are particularly popular in summer, especially the combinations of the colors from the nautical color palette: white, red and dark blue.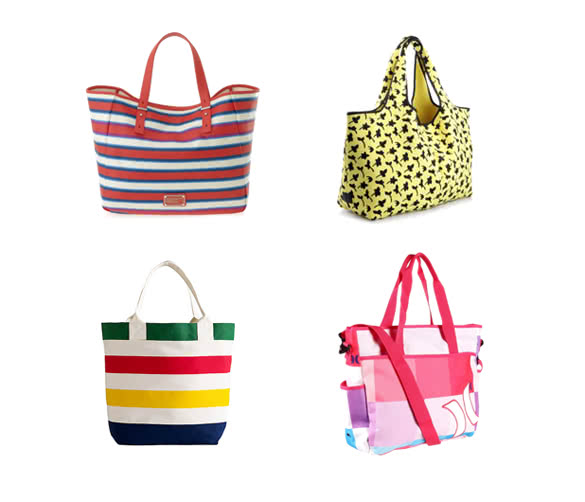 Sunset Beach Tote (cwonder.com)
Nora Large Tote in Yellow (juicycouture.com)
Semi-Clear Jelly Beach Tote (amazon.com)
Balenciaga Basket Raffia Hawaii Pink (balenciaga.com)
Color Blocking Beach Bags
These bags are perfect for all the fashion victims out there! If you're a worshipper of the color-blocking trend, here's how you could fashion it on the sand! Wear a color blocking beach bag! Pair it with a simple kaftan dress and some matching color blocking accessories (nail polish, flip-flops, or a piece of jewelry).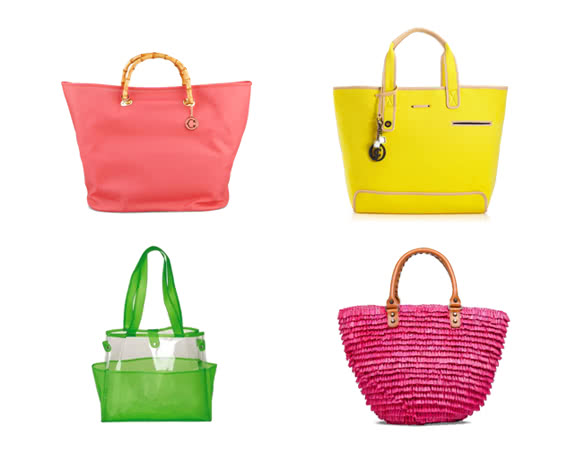 MARC by Marc Jacobs Stripe Beach Tote (marcjacobs.com)
DVF Neoprene Beach Tote (matchesfashion.com)
Luxe or Less Fun Beach Tote
Hurley Sunc Beach Tote (zappos.com)