As well as being known for her incredible music career, Rihanna is fast becoming a tattoo style icon. Check out Rihanna's tattoos and their meanings.
With 20 plus tattoos all across her body, it's safe to say that Rihanna is no stranger to a bit of body art. She simply loves the feel of going under the needle and is passionate about expressing herself through this permanent form of art.
While her many tattoos may look random, they are in fact anything but; each and every one of her intricate tattoos has a meaning behind it.
Rihanna's tattoos and their meanings
#1 Musical Notes – Right Ankle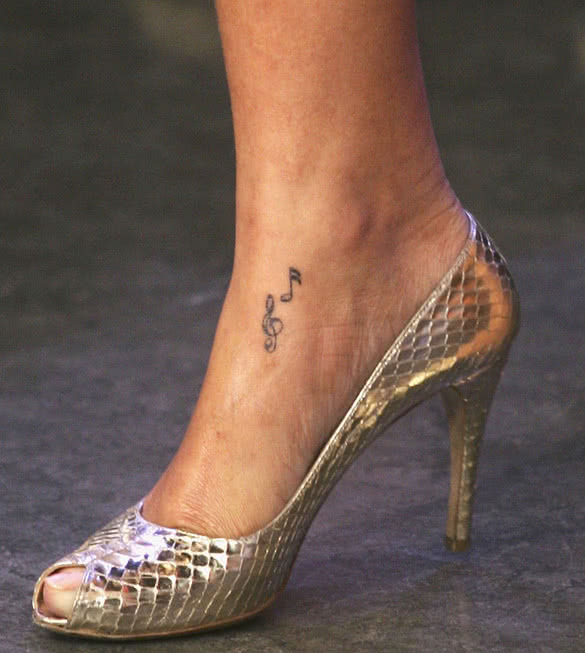 The musical notes on the front of Rihanna's right foot was the very first tattoo she got done. It is believed that she had the tattoo done sometime in 2006 and, as you may well have guessed, it is a tribute to her very first steps in the music industry as well as her love and passion for music.
#2 Falcon – Right Ankle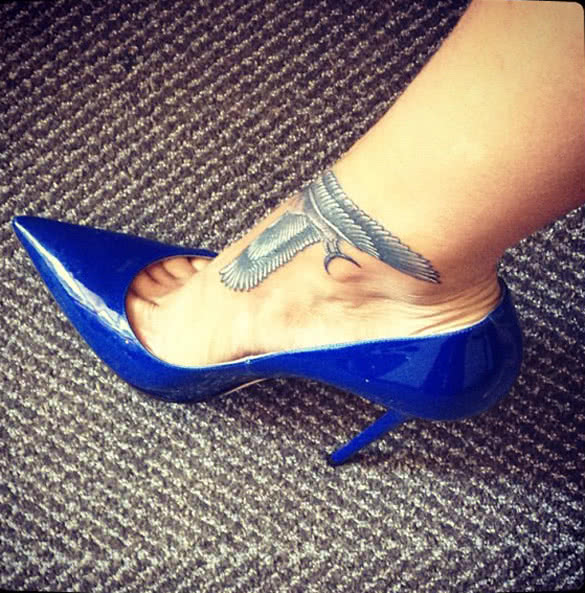 In 2012, Rihanna covered up her first tattoo of musical notes and replaced them with a large Egyptian falcon.
After she had it done, she tweeted a picture along with the words "Falcon: A light that shines in the darkness! Never close their eyes during sleep," to explain its meaning to her fans.
#3 Arabic Writing – Left Ribcage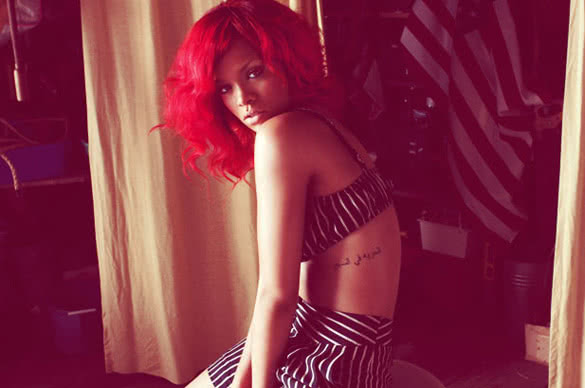 Across Rihanna's left ribcage is an Arabic message that translates as 'Freedom of God' and is done in traditional Arabic script.
The tattoo itself is very untraditional, however, as Islam considers tattoos to be somewhat unlawful and shuns the practice.
That said, to Rihanna the tattoo is a sign of change, strength and passion. Having had a rough childhood, each of her tattoos is a representation of the freedom she's found as an adult.
#4 Pisces Sign – Behind Right Ear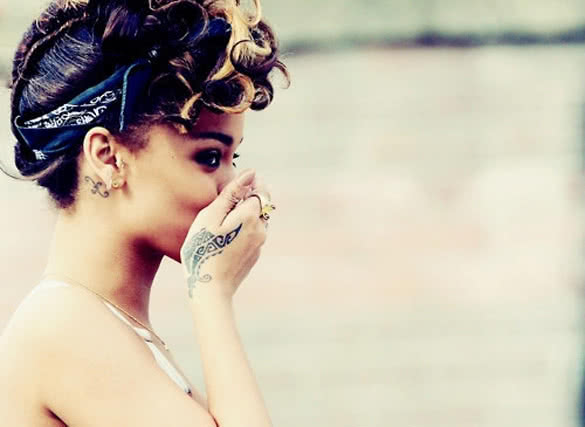 It is believed that the Pisces sign behind Rihanna's right ear was the second tattoo she had done – also during 2006. Again, the meaning of this tattoo is fairly straightforward and is simply a celebration of the astrological sign and the influences she believes to influence her personality.
#5 Star – Inner Left Ear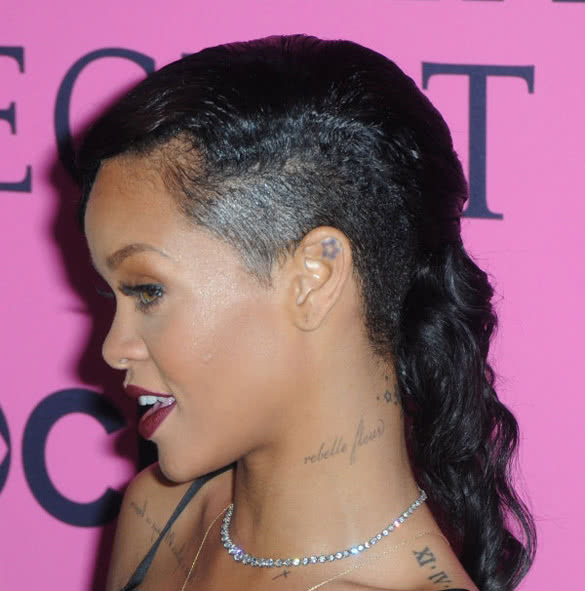 Of all Rihanna's tattoos, she claims that the outline of a star on her inner left ear was the most painful one to get.
While the tattoo doesn't hold any symbolic meaning, it's still a celebration of Rihanna's life and of her best friend. "My best friend from Barbados was here so we had to do something crazy," Rihanna said, explaining the tattoo. "She got one, too."
#6 Skull and Crossbones- Back of Left Ankle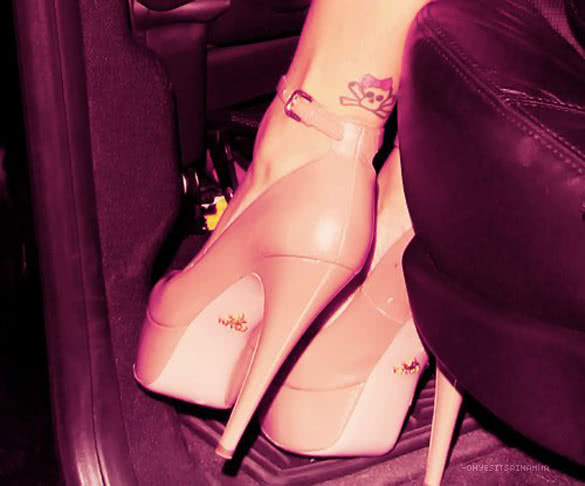 On the back of Rihanna's left ankle sits a quirky skull and the tattoo is one of Rihanna's few tattoos to contain colour.
Skull and crossbones usually represent danger. However, this is somewhat neutralized by the pink hair bow that sits atop the skull representing Rihanna as a strong, fearsome person with a soft, girly edge.
#7 Stars – Back of Neck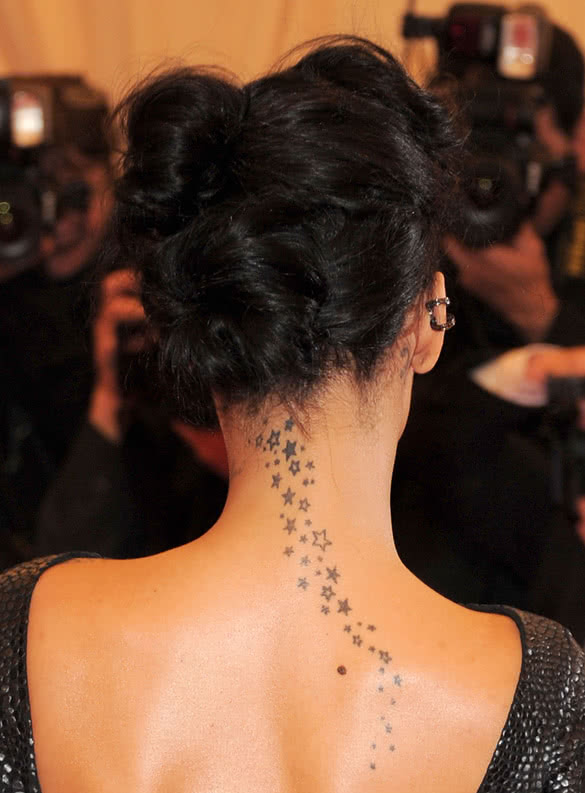 The stars that trail down the back of Rihanna's neck are perhaps the most famous of her tattoos.
Originally, the stars were limited to the back of her neck. However, in time, Rihanna had the tattoo extended so that the stars flowed across her right shoulder blade, too.
The stars were inked when Rihanna was still in a relationship with singer Chris Brown; he also had a trio of stars tattooed as a symbol of their unity. Now, however, Rihanna just likes to look at the beauty of the tattoo.
#8 Never a Failure, Always a Lesson – Right Collar Bone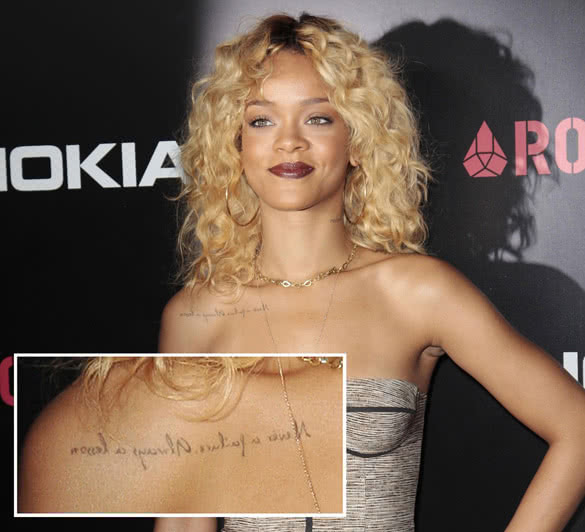 Written in mirrored script on Rihanna's right collar bone, just above her breast, is her personal motto: Never a Failure, Always a Lesson.
The self-motivating quote is meant to remind Rihanna of why we face hardships every time she looks in the mirror, inspiring her to stay strong through hard times.
#9 Sanskrit Prayer – Right Hip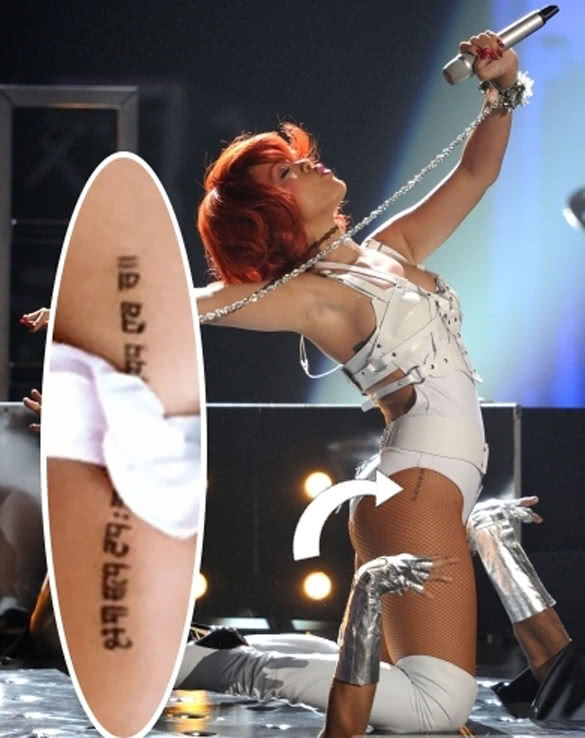 Stretching from just above her waist to the top of Rihanna's right hip is a beautiful looking ancient Sanskrit prayer.
Sadly, the tattoo was misspelled as it was being inked and instead of translating into "forgiveness, honesty, suppression, and control." it actually reads "long suffering, truthfulness, self-restraint, inward calm, fear and fearlessness." Still, the prayer still holds a lot of meaning and, in Rihanna's eye it's the thought that counts.
#10 Queen Nefertiti – Left Ribcage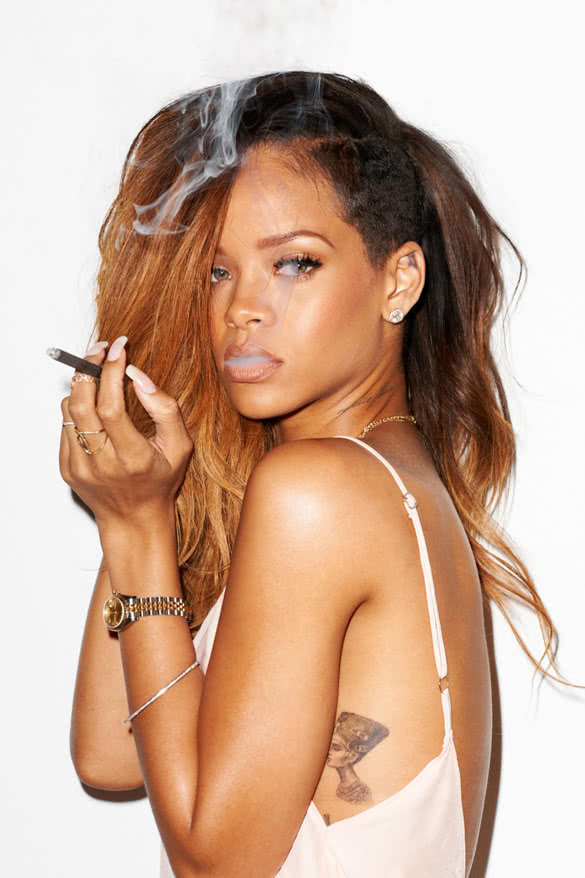 Rihanna has several ancient Egyptian tattoos across her body but perhaps the most famed is the tattoo of Queen Nefertiti that she has inked on her left ribcage alongside her breasts. The ancient queen is a symbol of true beauty and iconic vision – two things Rihanna truly believes in.
Of course, these are but a few of Rihanna's tattoos and their meanings. Each and every one of her tattoos has a meaning behind it – some of them extremely obvious and some of them incredibly personal.
Rihanna's passion for tattoos shows no sign of fading any time soon so there's little doubt that we'll see her collection of ink grow in the years to come.