Casual attire can mean anything from "must wear a shirt and shoes" to a shirt with a collar and a knee-length skirt. Confused? Our quick-fix guide can help.
One of the greatest characteristics of casual dressing is also one of its most frustrating attributes; most of what is considered "appropriate" is determined by the environment, regional practices, or even longstanding tradition. One of the best examples of this is readily apparent in any major airport.
It's no secret that for the most part, people want to be casual and comfortable when they travel. But take a quick look around the airport the next time you're there; you'll soon see that one person's casual is another's dressed-up, and is yet another's "wouldn't be caught dead in that".
While there is a lot to be said about the freedom that is inherent in the variety of choice we have, it certainly doesn't make the job of getting dressed any easier when you receive an invitation to attend an event where the required attire is "casual".
In the interest of cracking the casual dress code, we've done the legwork for you and came up with a quick-reference guide that should see you through two of the most common scenarios that call for casual attire for women.
1. The airport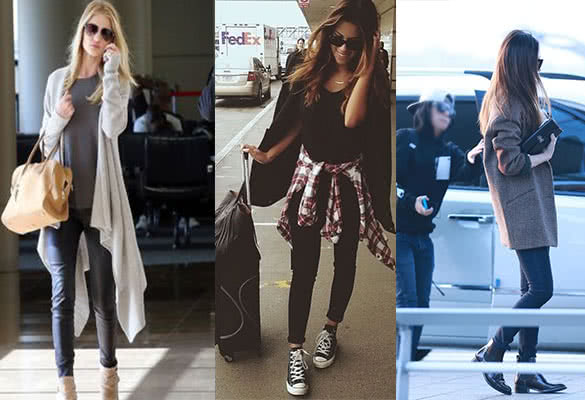 Since we've already used it as an example, it seems logical to start with what many fashionistas consider to be the sartorial Achilles heel of casual dressing; the trip through the airport. This is an occasion that sees otherwise sensible individuals abandon their fashion sense entirely and show up for their flights clad in sweat suits, yoga pants, and in some extreme cases, pyjama bottoms. I know, right? Please tell me that's not you.
When dressing airport-casual, if you're only able to remember one thing, remember that they make "real" clothes that are every bit as comfortable as "comfortable" clothes. What exactly do we mean by "real" clothes? Basically, anything that is not sweatpants, leggings, yoga pants, or (shudder) pyjama bottoms.
For your airport day, choose a layered look that you can easily adapt for changes in cabin temperature and destination climate. A pair of skinny trousers, a softly draping top (short or long sleeves, depending on where you are heading), and a boyfriend or waterfall-style cardigan or jacket are perfect pieces to create a chic yet pulled-together casual look for a travel day.
If you really (….really?) can't give up on the idea of those ratty but comfortable leggings, try to find a soft pair of skinny jeans or jeggings that provide the same amount of easy movement while looking a bit more finished.
Keep accessories to a minimum; you're going for effortless ease here, and over accessorizing not only looks like you're trying too hard, but can end up getting caught and breaking as you are slinging your luggage to and from. If you feel naked without accessories, try an oversized wrap or a scarf; you can also use it as a makeshift blanket during your flight.
Lastly, wear comfortable shoes. That does not mean you shouldn't wear heels…just make sure that they are comfortable heels or a sensible height (probably not five-inch stilettos – that's just trying too hard). Sneakers are fine, provided they are chic and cohesive with your look, but you may want to put a dressier pair of shoes in your carry-on if you will be going straight from the airport out for dinner or drinks.
2. Casual Friday at the office
Casual outfits seem to be a source of endless confusion among the office workers of the world. While companies embracing a less buttoned-down dress code can only be a good thing for productivity, once again, the finer differences in opinion of what actually is office-appropriate are often left up to interpretation.
As a general rule, if you wear a piece of clothing to the beach, the nightclub, or the gym, it is probably not appropriate to wear to the office, no matter how well you think you may have modified it. Flip-flops, platform stilettos, and spandex are never office-appropriate, no matter where you work. Even adding one of these elements to your look can sink it, so make sure that your casual office look is not just the sum of its parts.
An office-appropriate casual look needs to be able to stand the test of removing a jacket, cardigan or scarf and still be professional.
Fabric choice also comes into play when dressing for a casual office. Although denim is becoming more and more acceptable in casual but professional environments, you should leave your distressed, ripped, acid-washed, or otherwise tampered-with denim at home.
Choose clean, simple dark (or white in summer) denim in a uniform wash to keep your look from becoming too "weekend". If you do choose white, make sure that it fits well (not too tight), and that you are wearing appropriate foundation garments underneath.
Fabrics like sheer silk or polyester netting are never appropriate for an office environment, no matter what you are wearing underneath, so it's best not to go there at all.
If you are going to wear a skirt to the office, you have to consider the length, even (or perhaps especially) on a casual day. While those who work in certain creative environments (like fashion or art) may be able to rock a shorter skirt at work without raising a perfectly-groomed eyebrow, the reality is that this is the exception and not the rule when it comes to casual office attire.
So how short is too short? We like to use one of the oldest tricks in the book. If you stand upright with your arms handing down at your sides, the hem of your skirt should extend past your fingers. This is a trick that works well on most body types, although in certain work environments (such as legal or financial offices), you're likely going to want to add an extra inch or two to your hemline. For a safe and chic skirt choice every time, go with a chic, knee-length pencil skirt.
Casual attire gives the modern woman a freedom of choice that was unheard of just a few generations ago. However, that is not to say that casual attire is an invitation to just throw any old thing on and go. In order to perfect any casual look, it is important to take your environment into consideration. While no two casual environments are alike, the two environments covered here are two of the most commonly-encountered.