Your personality should be seen in your decorating choices for the bedroom. Here are some bedroom design ideas to start adjusting everything in it to your own liking.
The bedroom is the most personal room in the house. It is the room you decorate for yourself; it is your private sanctuary. As such, it should be subordinated to your needs. Read on to find some bedroom design ideas which could work for you and you could modify to better express your taste.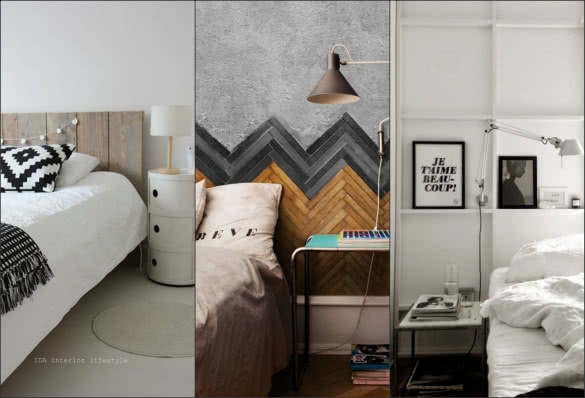 Common rules that apply to decorating a bedroom
There are some common functional rules which satisfy the ergonomics and the other needs considering health and quality of sleeping.
A good mattress is essential; we are all aware of that when it comes to bedroom decorating. A high-quality mattress provides the right support, appropriate temperature, and it adjusts to your sleeping position. It is a number one rule in order to achieve a good night sleep.
The only way to choose one is to try it by yourself, lying on it in your usual sleeping position. The best positions for the headboard are north and east, which assure good quality of sleep. Reflective surfaces, such are mirrors and TVs should not be placed facing the bed according to feng-shui; reflective surfaces drain your personal energy when you need it the most- while restoring it.
The transit zone between the window and the entrance is also a bad position for the headboard, because of the airflow.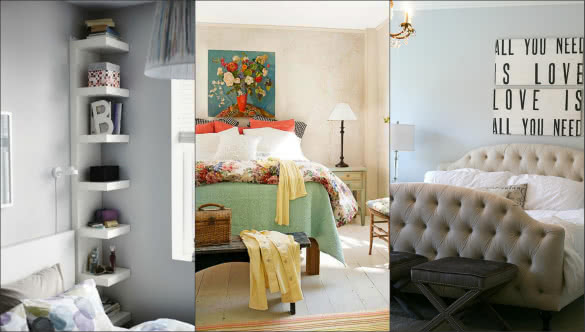 If your bedroom serves for other functions, like working; create a space for it and use it at the time of the day that doesn't interfere with your rest. And before going to sleep, clean the working area, place the "evidence" in drawers, and turn the devices off, so they don't disturb you anymore.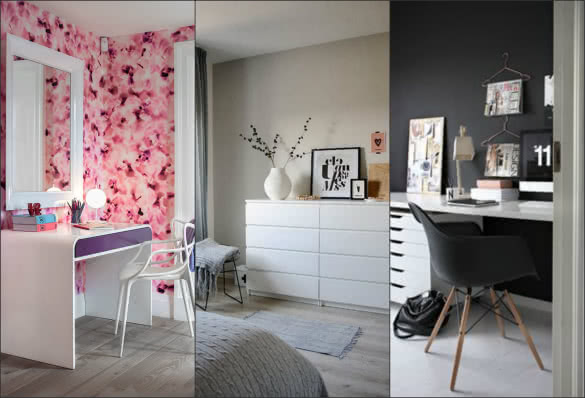 Positivity and optimism
Your bedroom is not just bed, sheets, and a clothes disposal area. Your bedroom should be the place that will restore you energy and awake your motivation every day. All the little and intimate things that have a special significance in your life should be on the display in your bedroom. A piece of jewelry that brings beautiful memories, a framed quote that speaks to you, or your favorite photo…
Anything that brings positive memories, nice feelings, and reminds you of the good times – these things will awake good thoughts and a positive attitude. The bedroom interior should diminish the amount of stress you bring in; it should act calmingly and soothingly.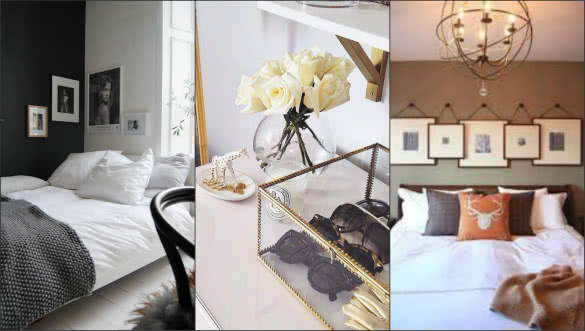 Night stands
A nightstand is a functional and a practical part of the bedroom furniture, and when personalized, they give a unique touch to a space. They can be made out of a pile of books, old suitcases, a stool or an old grandmother's nightstand – anything that works for you.
Nothing makes a space more yours and exclusive then blending in some history and memories. Matching bed and nightstands are functional and conventional, but personalization brings in an element of surprise and difference.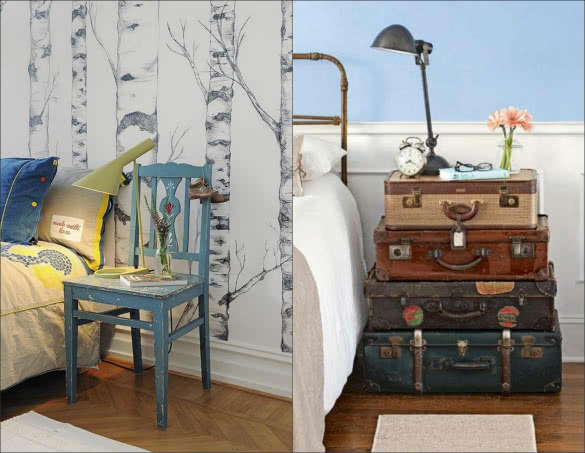 The wardrobe should match the room
The size of the wardrobe should naturally be adjusted to the size of the room, but regardless if it's big or small, a wardrobe should be functional. There should be enough space for passing in front of it, even when the doors are open. Go for sliding doors when there is a shortage of space.
Use boxes, baskets, and sorting bins for keeping it organized. Cramped space causes negative energy and a bedroom needs to be kept clean and airy. This allows for good rest and leads to fresh and positive beginnings of a new day. Use some racks and hangers for placing clothes that is to be worn again, instead of leaving them on chairs and dressers.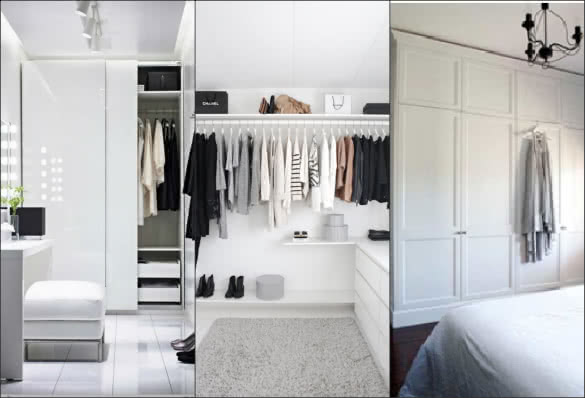 Colors inside the bedroom
There are some popular colors when it comes to bedrooms; lavender, light blues, grayish, neutrals – light calming tones… In fact, any color that you love and that works for you is the right color. Even if you go with dark walls and dark furniture, it's okay, as long as you have plenty of daylight, and it makes you comfortable.
If your bedroom is small and you prefer intense colors like purple, let the white be the base and purple an accent color. You will be surrounded by your favorite color, and space will still have a fresh and airy impression.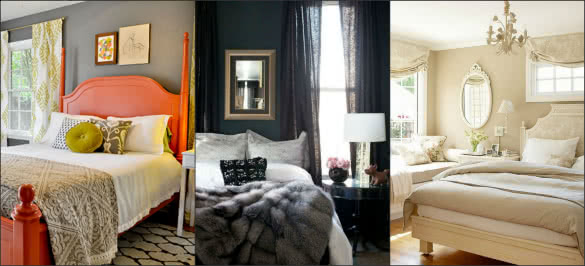 Decorating with wallpapers
Wallpapers with a unique pattern, or a mural with your favorite ambiance is a great way to add more personality to a space. You can choose your favorite photo and make the mural out of it, or you can pick amongst all the varieties on the market, anyhow, the effect will be outstanding.
If you use a bold pattern or a mural, place it only on the headboard wall. To add even more character, match the wallpaper to the headboard or do completely the opposite and create a strong contrast.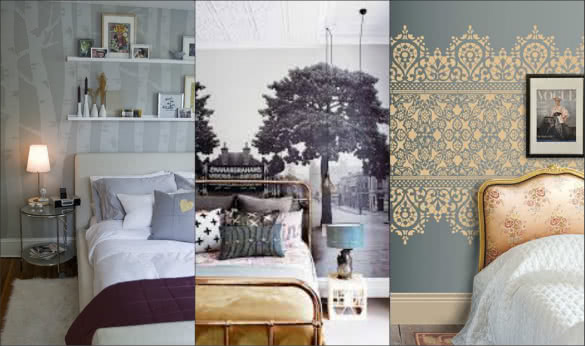 Rugs and carpets
Textiles play a significant role in the bedroom area; they create a cozy atmosphere, and we can quickly change the whole appearance of the room by replacing them. A beautiful and soft rug by the bed is an excellent addition to your comfort as it visually softens the space and gives a pleasant feeling to your feet in cold mornings.
Curtains also have an important function; we use them to adjust the amount of daylight we let inside the room and protect us from the outside views.
Blackout curtains are often used in bedroom interiors to block out light when necessary. You can use both, sheer curtains and blackout decor for the full advantage; blackout will block the light that would enter through the window even when the sheer curtains are closed.
If textiles are coordinated in color, they make a natural and harmonized ambiance. If you like sophisticated and elegant looking interiors choose the combination of neutral colors and high – quality decorative fabrics.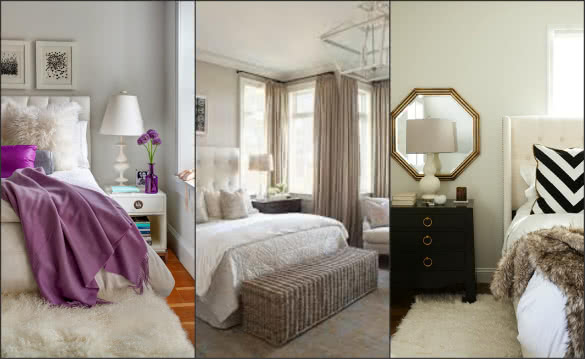 Lighting is essential
Good and thoughtful lighting is crucial for convenience and comfort in the bedroom area. The more varieties and possibilities there are – the better.
Different kinds of lights are necessary to achieve different moods and adjust it to your needs. Dimmers are a great solution, that way you can always adjust the intensity of lighting for various purposes, reading, sleeping, dressing, working… Lights with AC switches are also a very practical solution, and they save time and energy.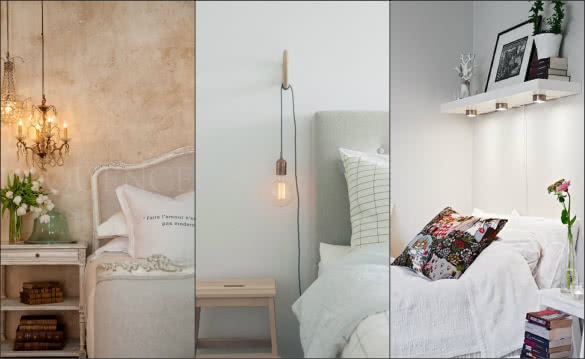 There will always be rules to follow and compromises to be done; there is no perfect layout and no perfect space. But when it comes to your bedroom, the most important rule is to follow your instinct.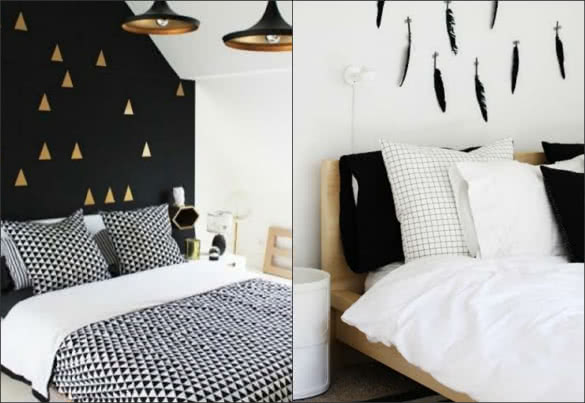 "The ache for home lives in all of us. The safe place where we can go as we are and not be questioned."
credits: Petra