A black tunic is an amazing clothing item every girl should have in her closet. It's very easy to combine and you can wear it for almost any occasion. Here are our ideas on how to wear it.
Tunics are my favorite summer items. They are usually very light, meaning they are comfortable, especially for surviving the super hot summer temperatures.
Although black is not the best choice for hot summer days, it is a classic color, very easy to combine and good for almost any occasion. We chose a classic 'Biddi' tunic/kaftan by ACNE (available at farfetch.com). It's long, light and very summer-friendly.
Outfit Idea 1
This is an everyday black and white outfit. It's very cool to pair this tunic with leggings, and I personally love this particular pair because of the unusual print that spiced up the whole outfit.
The shoes are Giuseppe Zanotti – but watch out, these are for the brave ones only, since they have a very, very high heel. Accessorize with an everyday black bag, a cool necklace and a nice pair of sunglasses.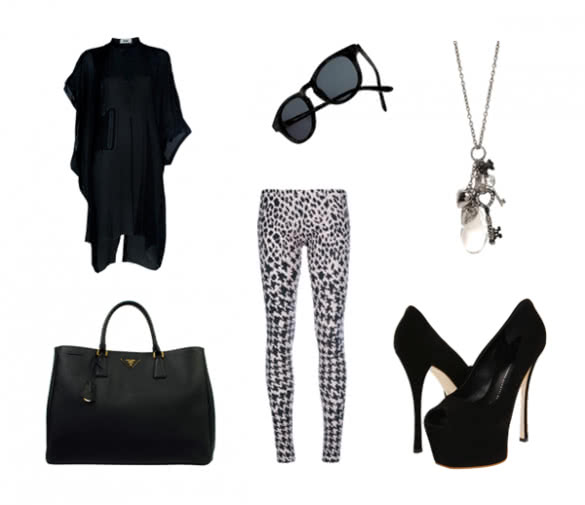 Prada Large Saffiano Lux Shopper (flannelsfashion.com)
McQ by Alexander McQueen Printed Leggings (farfetch.com)
Giuseppe Zanotti Black Shoes (couture.zappos.com)
Hematite Multi Heart Charm Necklace (torrid.com)
Madewell Han Kjobenhavn Timeless Sunglasses (madewell.com)
Outfit Idea 2
Pairing black with light pink, peach and nude can look very romantic and girly. That's why I chose a pair of Victoria Beckham skinny jeans in this amazing light pink.
You can accessorize with a matching tote and a cute necklace. Don't forget the spring/summer accessory – sunglasses. This cat eye shape is very big this spring.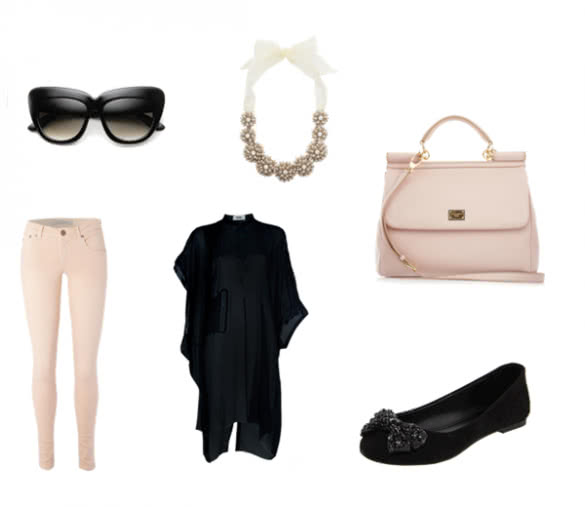 Kiara Large Cat-Eye Sunglasses (ocshades.com)
Victoria Beckham Cropped Power Skinny Jeans (donnalda.com)
Dolce & Gabbana Textured Leather Tote (net-a-porter.com)
Steve Madden Women's Karisma Ballet Flats (endless.com)
Gerbera Garden Necklace (katespade.com)
Outfit Idea 3
This could be a combination of the first two outfits. We took the idea of printed leggings from the first one, and borrowed the color palette from the second. These great Alexander McQueen leggings have the cutest baroque print, and they look amazing with the super comfortable Vivienne Westwood flats.
However, the accessories steal the spotlight once again. These earrings are great! Very unusual, one-of-a-kind, cute, romantic – to cut the story short, I love them!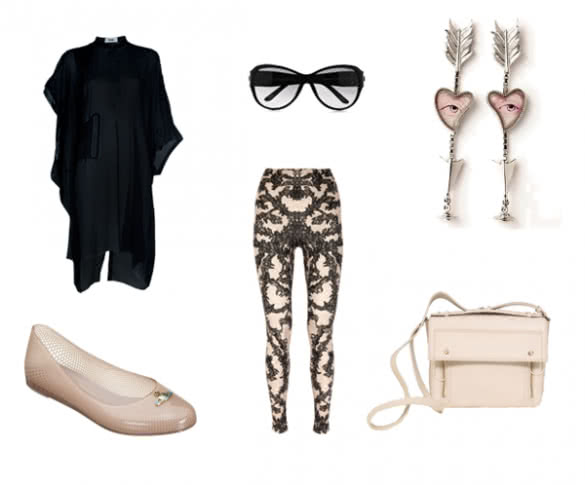 Alexander McQueen Lace Print Stretch Leggings (net-a-porter.com)
3.1 Phillip Lim Pashli Messenger (shoplesnouvelles.com)
Vivienne Westwood Earrings (zeberka.pl)
Vivienne Westwood Melissa Flats (cureuk.com)
Marc Jacobs D-Frame Acetate Sunglasses (theoutnet.com)
Outfit Idea 4
Spring and summer are all about gold and silver. Shiny details make every outfit special and memorable. In this case, we are keeping the clothes simple – a black tunic and cropped boyfriend jeans.
Sounds kind of boring, doesn't it? Well, it gets very hot when we pair it with this amazing one-of-a-kind clutch, the fabulous YSL golden necklace and a pair of breath-taking Charlotte Olympia shoes.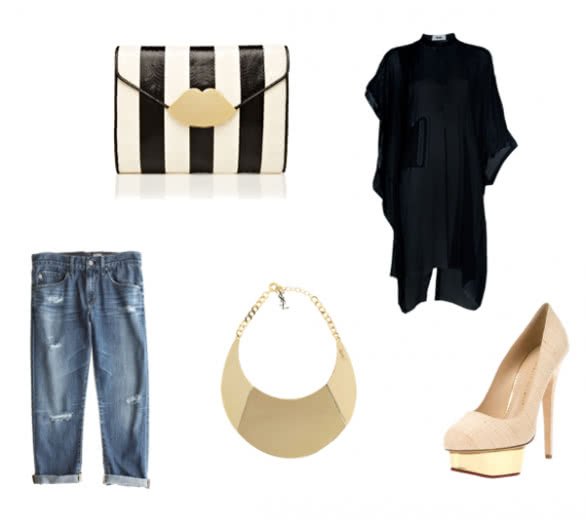 Adriano Goldschmied Cropped Boyfriend Jeans (calypsostbarth.com)
Black and White Stripe Snakeskin Small Envelope Clutch (luluguinness.com)
Yves Saint Laurent Purefly Gold Tone Necklace (net-a-porter.com)
Charlotte Olympia Sacarpin Dolly Raffia Nude Pumps (farfetch.com.br)
Outfit Idea 5
And now, it's color-blocking time! Wear this tunic with a nude shorts and some super high Ruthie Davis peep-toes in a great summer color. Accessorize this look with a cute bag, a pair of sunglasses and a long locket necklace.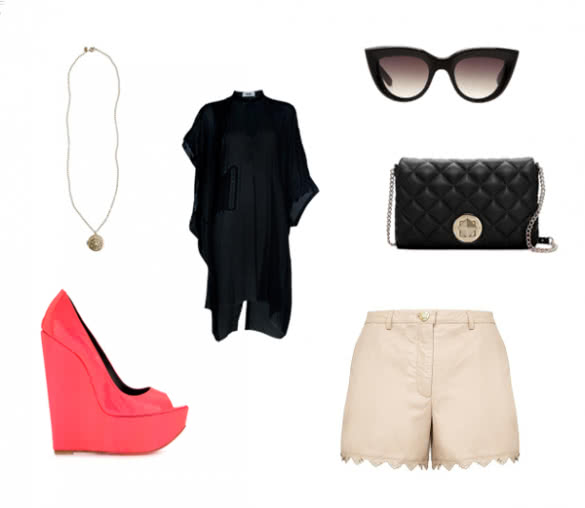 Alice by Temperley Libre Shorts (harrods.com)
Ruthie Davis Shoes (ruthiedavis.com)
Gold Coast Meadow Purse (katespade.com)
Lion Head Locket Necklace (jcrew.com)
Ellery et Graz Sunglasses (offtherunway.com.au)