Leather in summer? Absolutely! Read on and learn how to wear leather this summer!
When we think about leather, the first words that pop into our mind are probably "rock", "tough" and "edgy". This is because leather has for years and years been associated (quite correctly) to the rock culture and style and it still is.
Leather is still for sure the staple item of the modern glam-rock style, in the form of jackets, shorts and leggings, but what has really changed in the past few years is that leather is now not only exclusive of the rock style, but designers and stylists have started to play around with this material more and more, wearing it with feminine cuts, soft shapes and elements from other styles.
Leather is absolutely great because it gives you the possibility to really play with contrasts. You can turn a simple girly dress into a sophisticated and aggressive look just by adding a leather jacket or add interest to your plain outfit with a pair of leather leggings.
In short, the possibilities are endless, and for this reason one could get lost in them.
So, read on for some of the most glamorous leather outfits and how you can get the look for this summer!
Alexa Chung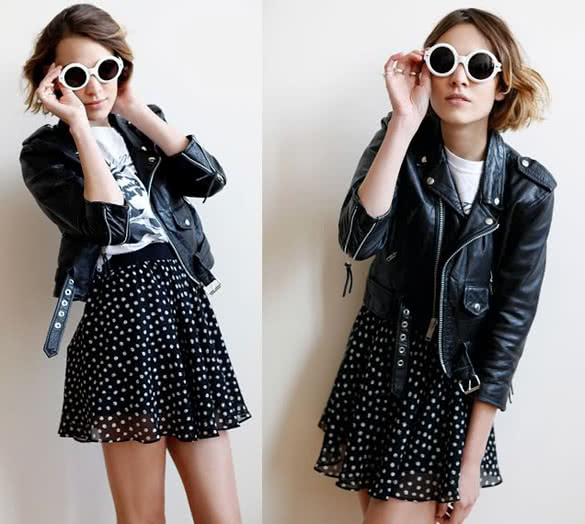 What to wear: A glam-rock leather jacket worn together with a girly and feminine dotted skirt and a simple printed t-shirt.
Why: As I have mentioned before, playing with contrasts is one of the coolest pros of wearing leather. You can match it with really feminine cuts, prints and materials, like with a flimsy floral dress, for example, or with a girly skirt and a printed t-shirt like Alexa Chung does it.
I twill for sure toughen up your outfit and add make you stand out from the crowd.
Elle MacPherson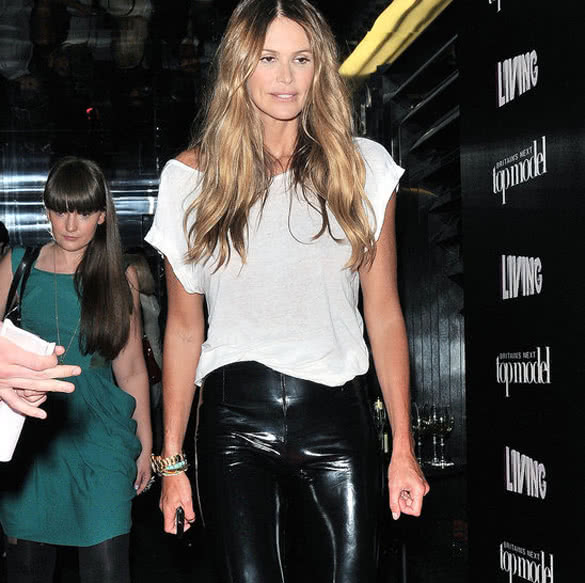 What to wear: A simple white t-shirt with a pair of shiny leather pants
Why: I think that the best friends of simple white t-shirts are probably leather pants. They go so well together, as they contemplate each other balancing out the outfit, which is neither too aggressive nor too plain.
If you then leave your hair loose and your makeup natural like Elle MacPherson does, the result is a really effortless chic look, perfect for many occasions and absolutely glamorous.
Jessica Alba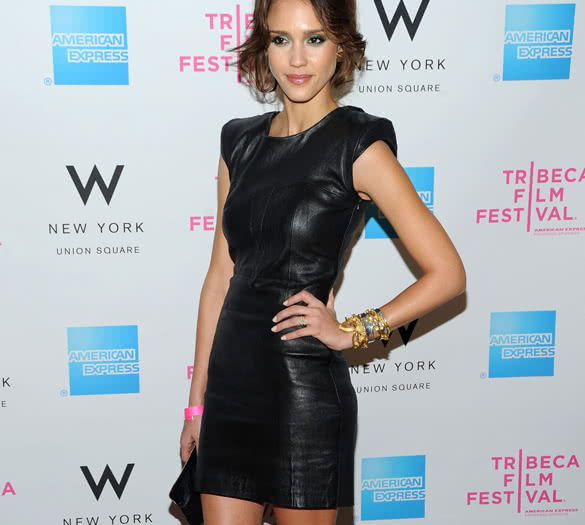 What to wear: a leather cocktail dress at an important event, together with some chunky bracelets.
Why: Leather dresses and total-leather looks are probably more associated in our mind to SM sexual practices, but in actual fact leather could even make a great cocktail look! Have you ever though about wearing a short leather dress to an event?
Well, Jessica Alba has and she looks stunning in it. She has worn it together with some statement golden and silver bracelets and she has managed, in this way, to pull of a super glamorous look. A great inspiration for our next event!
Miranda Kerr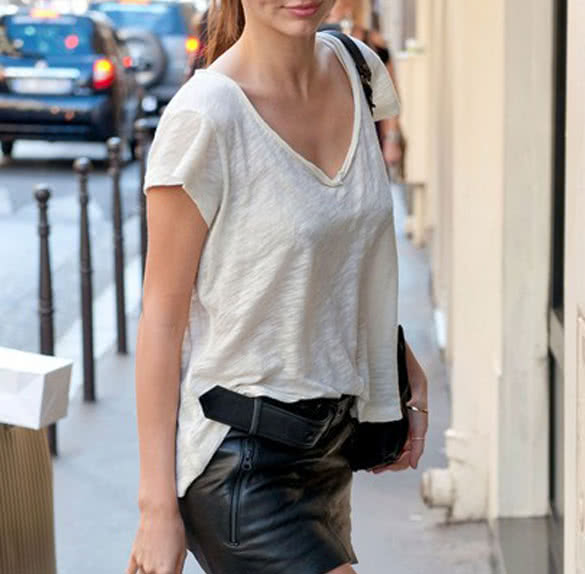 What to wear: A leather mini-skirt, worn with a simple v-neck t-shirt and a big belt.
Why: the best way to spice up a simple white v-neck t-shirt? Wear a leather mini-skirt with it and add a really big belt. Miranda Kerr looks absolutely fab in this look, which is really effortless but also very glamorous and très chic.
The only con: you need to have a top-model body in order to pull this look off like her. If you are a bit curvier, I would advice to go for a longer skirt.
Agyness Deyn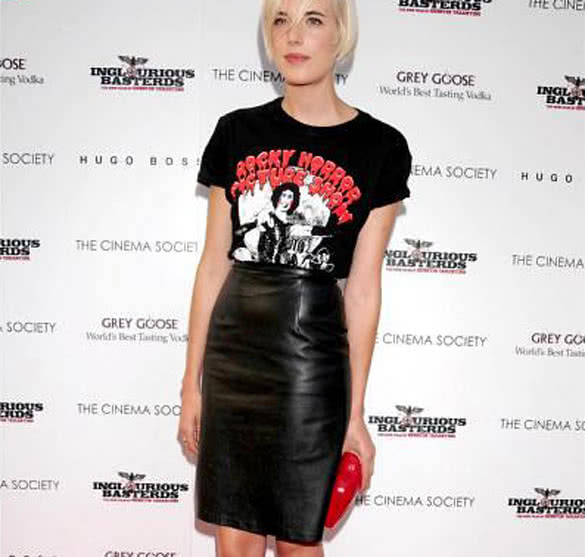 What to wear: A quirky t-shirt worn with a high waist leather skirt.
Why: A really different and particular outfit is obtained by matching a sleek high-waist skirt (a must-have item that can be worn with many different tops) with a really quirky and controversial t-shirt.
It could either be a t-shirt from a rock concert, just to keep the rock vibe going on, or, like Agyness Deyns wears it, from a show! She then finishes the look with a red clutch bag.
Rachel Bilson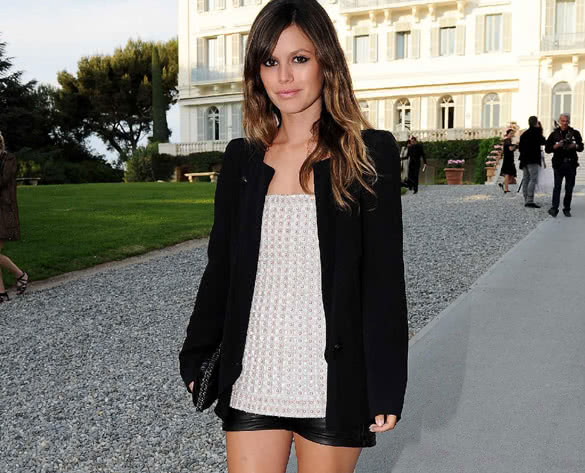 What to wear: A pair of black leather shorts with a light white knitted top and a classic black blazer.
Why: A black blazer is not only a really professional piece of clothing, but it can also become a glamorous solution for your daywear.
Wear it with a pair of black leather shorts and a really light white knitted top like Rachel Bilson does for a very sophisticated look that can be worn to any occasion!
Blake Lively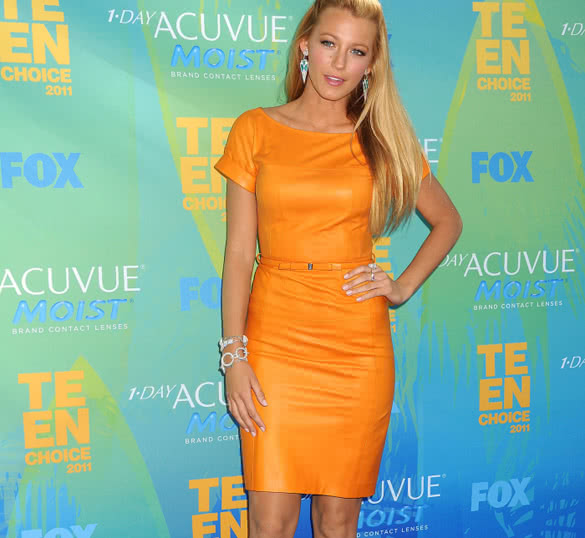 What to wear: A brightly colored leather dress.
Why: We are so used to associate leather with black or brown that we have forgotten that leather items can actually come also in other colors!
For example, this really nice and young dress worn by Blake Lively during the Teen Choice Awards is simply gorgeous in this bright orange, which has for sure captured the attention of everyone that evening.
Olivia Palermo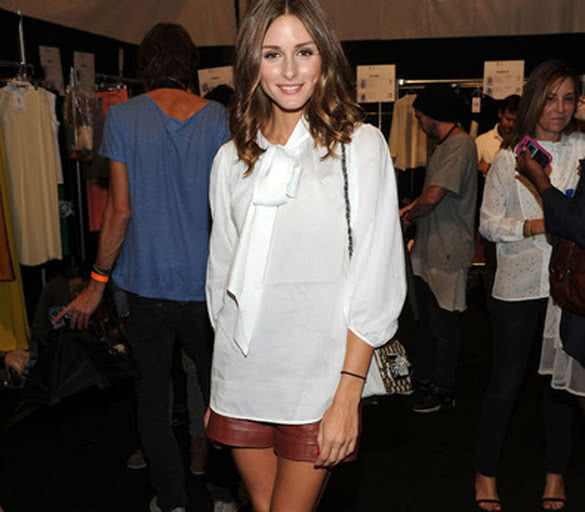 What to wear: An oversize white camisole with a pair of brown leather shorts.
Why: Oversize tops, such as t-shirts, camisoles and shirts, are absolutely perfect worn together with a pair of shorts, especially if they are leather shorts.
Take as an example the style icon Olivia Palermo, who wears a beautiful white camisole with a big bow on the neck together with a pair of cool brown leather shorts. Effortless chic to its maximum!
Victoria Beckham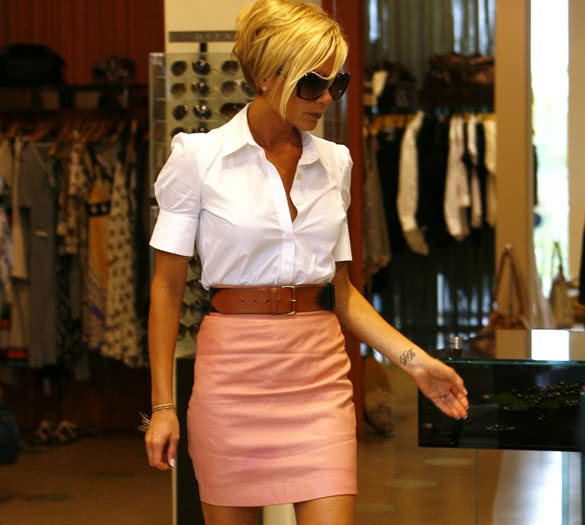 What to wear: A leather skirt with a white shirt.
Why: Victoria Beckham has managed to create the perfect balance between professionality and glamour. If the old black skirt and white shirt combo bores you, go for a different material for the skirt, such as leather, especially if it is in a pastel color.
You will make all your colleagues super jealous of you!
Eva Longoria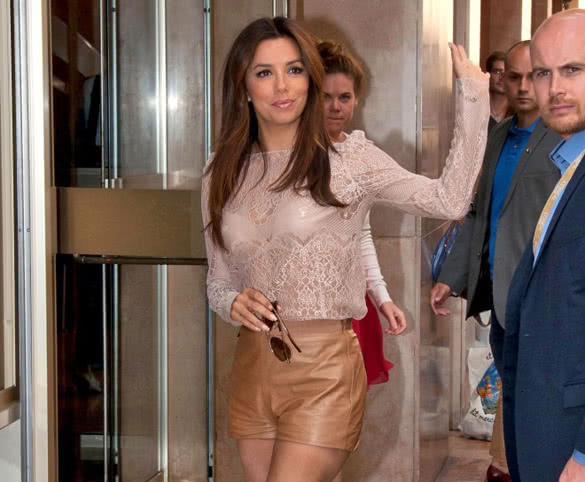 What to wear: A pair of brown leather shorts and a transparent camisole.
Why: This look worn by Eva Longoria is super feminine and chic, which proves wrong the conception that leather makes you look tough and edgy!
Also, if you are a girly girl you can still go for a pair of leather shorts.